REITERER COMPLETES VICTORY PARADE LAP TO CLINCH SHARJAH GRAND PRIX TITLE
Friday, 20 December, SHARJAH (UAE): The newly crowned 2019 Ski GP1 world champion Kevin Reiterer rounded out his week at the UIM-ABP Aquabike Grand Prix of Sharjah with a victory parade lap in the final moto to win his fourth Sharjah title.
It was a one man show, Reiterer against the circuit and the conditions taking the win by 101 seconds to cap a remarkable season for Dubai-based Victory Team.
"Sharjah always treads us well. The event pushes the whole sport to the next level. The track and conditions really suit my riding and bring out the best of me."
Besides the amazing success of Victory Team's Reiterer, as a racer, the Austrian racing team themselves achieved great success. Having an outstanding season and finishing second in the World Championship is Daniel Svae Andersen (NOR). Never has a Norwegian finished higher at a World Championship. Daniel has been racing for the Austrian racing team since 2014.
The story of Sharjah is all about the victory of Jonna Borgström (SWE). The Kev-Racing team racer fractured her arm at the very event just two years prior. She struggled to regain feeling in her hand due to severe nerv damage. Nevertheless, she kept her focus and has been undergoing a difficult route through recovery and treatments. A few months ago, Jonna has still be struggling from race to race with her arm but she never stopped pushing. Today she won her first ever Grand Prix title with a victory in the last moto.
"I am very proud of these two. Daniel grew a lot as a person and showed his maturity with an impressive performance throughout the year making him the only challenger left for the World Title. Jonna, hands down. Today, I could see a clinch of her old fire and desire to win again! Coming back from such an injury takes a lot of courage, desire and love for the sport. They have both been working hard and earned this one!"
Kevin Reiterer has established a ground foundation in the sport of Aquabike racing giving athletes the chance to follow their dreams and provide them with the tools needed. The Team has been established in 2014 and has been very successful ever since.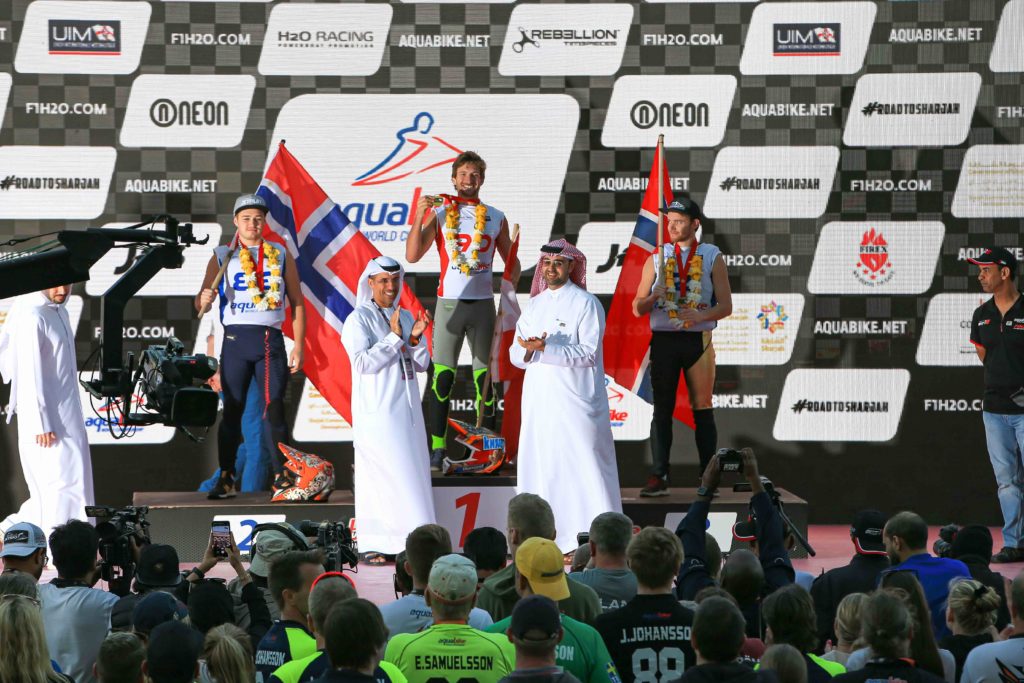 REITERER SCHLIESST MIT SIEG AB, UM SHARJAH GRAND PRIX-TITEL ZU SICHERN
Freitag, 20. Dezember, SCHARDSCHA (VAE): Der kürzlich gekrönte Ski GP-Weltmeister von 2019, Kevin Reiterer, beendete seine Woche beim UIM-ABP Aquabike Grand Prix von Sharjah mit einer Siegesparade im letzten Rennen und gewann seinen vierten Schardscha -Titel.
Es war eine Ein-Mann-Show, bei der Reiterer gegen den Kurs und die schwierigen Bedingungen antritt. Souverän siegte der Niederösterreicher mit 101 Sekunden Vorsprung. Eine bemerkenswerte Saison für das in Dubai ansässige Victory Team. 4 von 4 Grand Prix Siegen. 11 von 12 Renn-Siege.
"Der Große Preis von Schardscha ist immer etwas Besonderes. Die Veranstaltung erste Klasse und sehr wichtig für das Victory Team Resultate für das Königshaus zu präsentieren. Die Strecke und die Bedingungen sind enorm schwierig und bringen das Beste aus mir heraus."
Neben dem erstaunlichen Erfolg von Reiterer als Rennfahrer erzielte das österreichische Rennteam selbst große Erfolge. Daniel Svae Andersen (NOR) hat eine herausragende Saison und sicherte sich den Vize-Weltmeistertitel. Daniel fährt seit 2014 für das österreichische Rennteam.
Die Erfolgsgeschichte Schardschas dreht sich um den Sieg von Jonna Borgström (SWE). Die Rennfahrerin des Kev-Racing-Teams hat sich zwei Jahre zuvor einen schweren Oberarmbruch, bei dem selben Event, zugezogen. Seither kämpft sie wegen immensen Nerven Schäden, das Gefühl in ihrer Hand wiederzuerlangen. Trotz der Komplikationen, behielt sie ihren Fokus bei und machte sich auf einen harten Weg durch Behandlungen und Training. Heute gewann sie ihren ersten Grand-Prix-Titel mit einem Sieg im letzten Rennen.
"Ich bin sehr stolz auf diese Beiden. Daniel ist als Mensch sehr gewachsen und hat mit einer beeindruckenden Leistung im Laufe des Jahres seine Reife unter Beweis gestellt. Jonna, zweifellos unglaublich. Heute konnte ich wieder einen Teil ihres Feuers und ihres Ehrgeizes sehen! Das Zurückkommen von einer solch schwerwiegenden Verletzung erfordert viel Mut, Vertrauen und Liebe für den Sport. Sie haben beide hart gearbeitet und sich diese Erfolge verdient! Ich bin sehr stolz."
Kevin Reiterer hat mit seinem Racing Team eine Grundlage für junge Athleten eingeführt, welche ihnen den Weg zur Spitze des Sportes ermöglicht. Das Team wurde 2014 gegründet und ist nun eines der Erfolgreichsten des Sportes.