Nach dem Auftaktrennen in Gallipoli, Italien, reiste der größte Wassersportrennzirkus der Welt nach Sardinien, Olbia. 130 Teilnehmer aus 5 Kontinenten und 23 Ländern nahmen am zweiten Stopp der ABP Aquabike World Championship teil.  Zwei Österreicher waren unter den Sportlern vertreten -Markus Schick (Sitzer) und Kevin Reiterer (Steher). Dies ist Markus Schicks zweites Jahr in der WM und mit Top 10 Platzierungen konnte er sein Talent unter Beweis stellen. Vize-Weltmeister Reiterer teilte sich einen punktegleichen Auftakt mit Raphael Maurin (FRA) in Gallipoli, den Wochenendsieg musste er durch ein schlechteres Ergebnis im zweiten Wertungslauf jedoch abgeben. Für den Großen Preis von Sardinen war der Niederösterreicher motiviert und fokussiert seine Fehler auszubessern.
"Im Training hatten wir leider Probleme und mussten es frühzeitig  abbrechen. Das Team konnte richtig agieren und wir behoben das Problem über Nacht.", so Team Manager Chris Wilkinson.
Reiterer ließ sich nichts anmerken und fuhr zu seiner zweiten Pole in seiner Karriere. Mit der Pole Position sicherte sich der Niederösterreicher eine sehr gute Ausgangsposition für den ersten Lauf. In der ersten Runde überholte er Jeremy Poret (FRA) und fuhr zu einem sicheren Sieg.
"Es ist alles andere als leicht. Betonmauern so weit das Auge reicht. 30 Piloten die das Wasser nicht nur aufschaukeln und es unberechenbar machen, sondern die man noch umfahren muss wenn man in Mitten des Rennens zum Überrunden beginnt. Es war eines der härtesten Rennen die ich je gefahren bin." schildert Reiterer.
Nach einer Nacht Regeneration für die Fahrer startete das Feld Sonntagnachmittag in die Finalläufe. Quinten Bossche (BEL) hatte einen guten Start und machte Reiterer und Maurin die Türe vor der ersten Boje zu. Reiterer fuhr sein Rennen sicher hinter Quinten ab um sich den Gesamtsieg zu sichern. Die Rennleitung legte Quinten eine Zeitstrafe von 15 Sekunden auf, da er seine Linie zur ersten Boje nicht gehalten hatte, dies machte Reiterer auch zum Sieger des zweiten Wertungslaufes und rundete ein perfektes Wochenende für den Österreicher ab.
"Wir sind unglaublich glücklich mit den Resultaten von Kevin. Der Jet ist erst in seiner Anfangsphase und wir müssen noch Einiges verbessern. Aber Kevin ließ es so aussehen als ob der Ski unschlagbar wäre.", erklärt Huraiz Bin Huraiz Vorsitzender des Victory Teams.
Mit 16 Punkten Vorsprung geht der Wiener Neustädter in die Sommerwettkämpfe, bevor die WM Anfang September ihr Comeback in China feiert.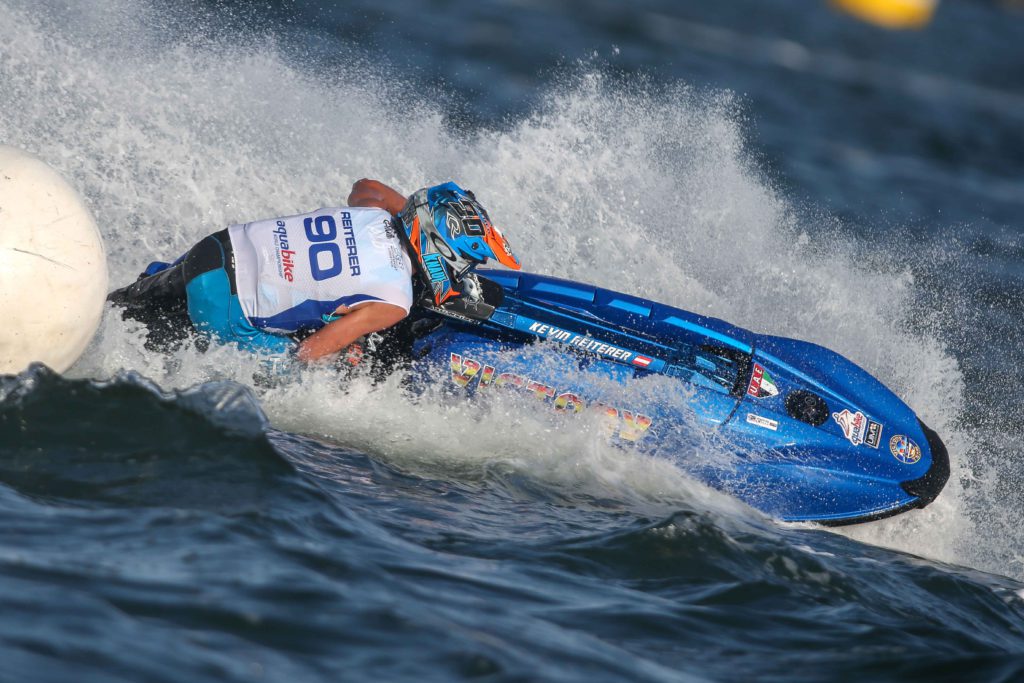 After the start of the season in Gallipoli, Italy the most elite riders of the world travelled through Italy and met again in Olbia, Sardinia. 130 entrees from over 23 different countries entered the ABP World Championships second Grand Prix of the season. Austria was represented in both, Runabout and Ski GP. With Markus Schick finishing once again Top 10 in Runabout GP and proving his talent. Vice World Champion of 2017 Reiterer who entered this weekend leading the Championship equal in points with Frenchman Raphael Maurin, was focused and motivated to fix up his mistakes of the first round.
"While testing the Team ran into technical issues and had to work hard to get the ski ready for pole position.", explains Team Manager Chris Wilkinson.
Reiterer answered after a stressful night and rode to his second Pole of his career. With a secured Pole Reiterer had a great start in the first Moto, took the lead on lap one from Jeremy Poret (FRA) and cruised to victory.
"It is everything else than easy to race surrounded by concrete walls with 30 riders on the track, starting to lap slower riders on lap four and then keeping control over your ski and staying clean throughout the 20 Minute Motos. But that is what makes it so exciting." says Reiterer with a smile.
In the second Moto Quinten Bossche (BEL) holeshoted and finished in front of Reiterer and Maurin but was panelized with 15 seconds after cutting lines to the first buoy. The Austrian took over the points lead with a superb performance and secured a solid victory at the GP of Mediterranean.
"We are happy to see Kevin doing so well at his first appearances for the team. The race ski is working well but we have still more to give. All in all the start into the season was a success." explains Huraiz Bin Huraiz, CEO of Victory Team.
With a 16 point lead Victory Team and Reiterer will go into the summer competitions with a cushion before heading to China in September.