This is how Reiterer described his return to racing after a dominating performance at the GP of Poland last weekend. It was the first major event for the top racers of whole Europe since more than 12 months.
The Grand Prix of Poland took place in Elk and riders from all over the nation made their way to the first of two rounds of the ABP European Championship. A stacked field of Multi Time World and European Champions set up the season opener for a hot fight for the top steps of the GP class, where skis go as fast as 130 kmh.
Reiterer started of with a surprising Pole Position followed by companion Nacho Armillas (ESP) separated by only 0.43 of a second. The Austrian and European Champion of 2019 went into the event with a lot unknown.
"I honestly have not been on one of these GP skis for more than a year. I did not know what to expect. It was a brand new ski and I had no experience on it. I prepared myself as good as I could and was mentally in a very good place."
This led to many costly mistakes at the start of the first Moto leaving Reiterer only in ninth after the first lap. However he managed to recover to P2 at the end of the 17 minute Moto. The second and final race went smoother and despite being handed the lead, due to mistakes of his competitor, Reiterer went on to win the Motos in great fashion.
"It is just an amazing feeling! I am not yet to full grips with the new ski but we have made steps into the right direction throughout the weekend. I never thought I'd be appreciating racing more than I did. This past year really changed my mindset and made me appreciate the small things in life. I am super grateful for the the Kev-Racing team working so great together and becoming such a great cooperation! Would not be were I am today without them."
Reiterer will be attending a warm-up race next weekend in Zagreb, Croatia before setting his eyes onto the final round of the European Championship on the 15.-16. of July in Hungary.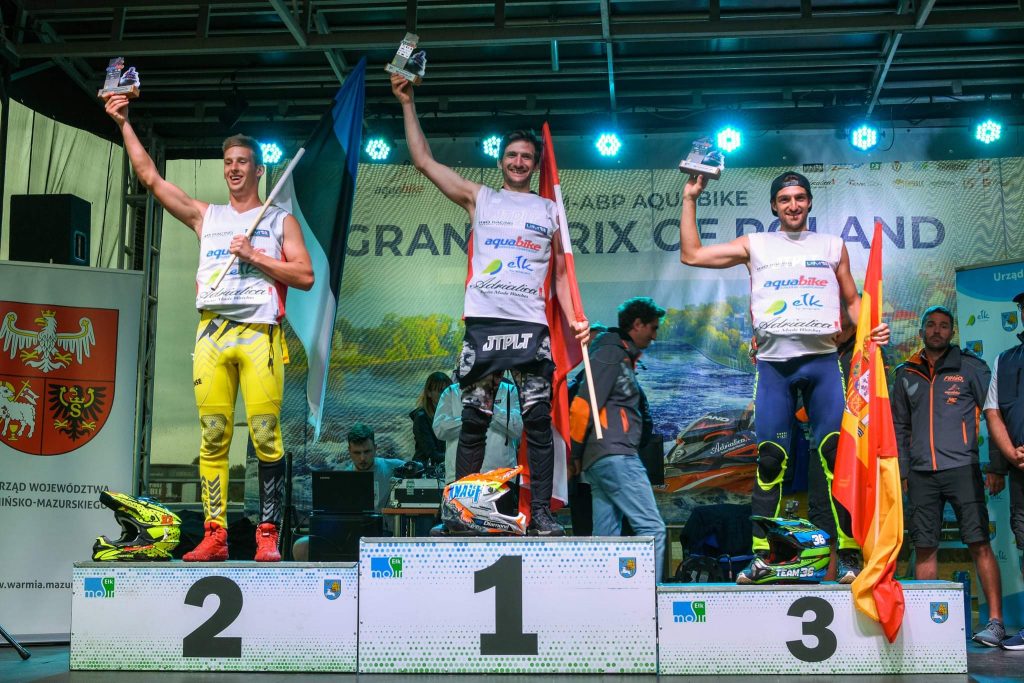 "Überraschender Auftakt"
Der Große Preis von Ungarn war das erste Groß-Event seit mehr als 12 Monaten für die Elite des Jetski Sportes. Eine Starterfeld gepackt mit mehreren Europa- und Weltmeistertitel fand sich vergangenes Wochenende in Polen, Elk zum ersten von zwei EM Grand Prixs iein.
Der Niederösterreicher startete mit einem überraschenden Sieg in der Qualifikation in das Rennwochenende, gefolgt von Nacho Armillias (ESP) und Andrik Enderli (SUI). Für Reiterer gab es einige unbekannte Faktoren für das erste Rennwochenende nach langer Pause.
"Durch die Pandemie war mir jegliches Training auf einem dieser PS starken GP Jetskis für mehr als ein Jahr verwehrt. Außerdem, war ich durch den Team-Wechsel auf einem komplett neuen Gefährt unterwegs. Die Erwartungen waren gering doch körperlich und mental bin ich in einem sehr guten Zustand."
Die fehlende Erfahrung führten zu mehreren Fahrfehlern am Start des ersten Rennens und sahen Reiterer nur als Neunter nach der ersten Runde. Überraschend schnell hatte der Europameister aus 2019 seinen Ski besser unter Kontrolle und schaffte es nach 18 Minuten auf Platz Zwei das Ziel zu durchqueren. Mit kleinen Setup Änderungen und mehr Erfahrung holte sich Reiterer zwei Rennsiege in den restlichen Läufen und übernahm die Führung der Europameisterschaft.
"Unglaubliches Gefühl einfach wieder an seine Grenzen zu gehen! Durch die Veränderungen im letzten Jahr lernte ich vieles dazu und schätze vielmehr die kleinen Dinge im Leben. Danke gilt dem ganzen Rennteam die sehr viel harte Arbeit in den neuen Ski gesteckt haben!"
Kommendes Wochenende startet Reiterer bei einem Vorbereitungsrennen in Zagreb, Kroatien bevor am 15. und 16. Juli der finale Lauf der Europameisterschaft in Ungarn stattfindet.