2019 ABP World Championship – GP of Portugal Portimao
Portimao is the largest town in the western Algarve and sits on the bank of the Arade River facing Ferragudo on the opposite bank. It is also the 2019 European City of Sports and hosted the season opener of the Aquabike World Championship last weekend. Racers of over 27 nations attended the world class event.
Defending World Champion, Kevin Reiterer came into the season with an incredible performance at the first round of the European Championship and the UAE Title. The Team looked strong in both practice sessions and set pole by just two hundreds of a second in front of Estonian Marten Manni. In both Motos on Saturday Reiterer made no mistake from pole and was 8 seconds clear by the end of lap 1 and then disappeared off into the distance to complete the 10 laps to win by over 1 minute ahead of the rest of the world.
"I had my times in Pole where I needed to adjust myself to the track but I figured it out for the Motos. We faced some issues in Moto 2 but the Team did an amazing job to repair the damages suffered on the Hull. Due to a lot of testing in the winter we know what the engine is capable which allows me to give it my all. There is always competition and we want to improve ourselves each time." explains the 26 year old Austrian.
Sunday strong winds shocked the field with difficult water conditions. But Reiterer was unfazed by the rougher conditions and was in command from the start building his now customary lead lap-by-lap to win by a 40 second margin. "I like conditions like this some waves and a lot of wind which makes it more interesting and makes the riders' job, his skill more important."
Daniel Svae Andersen (NOR) completed his best ever weekend on the UIM-ABP tour with another second place to seal his first podium and the runners-up slot, with Marten Manni's (EST) fourth place behind Raphael Maurin (FRA) putting him onto the third step of the podium.
In two weeks time the Championship will make its way to Olbia, Sardinia. For the second time in history the Aquabike World Championship is replacing the famous WRC World Championship as a premiere motorsport attraction.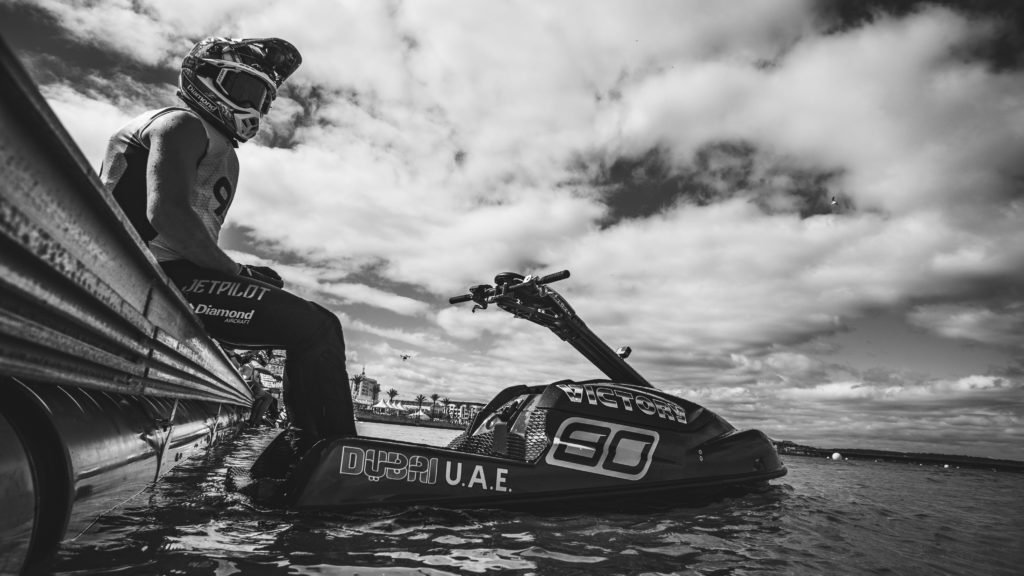 2019 ABP World Championship – GP of Portugal Portimao
Portimao ist die größte Stadt an der Westalgarve und liegt am Ufer des Flusses Arade mit Blick auf Ferragudo. Die Küstenstadt ist zugleich die "europäische Sportstadt 2019" und war am vergangenen Wochenende Austragungsort des Saisonauftakts der Aquabike-Weltmeisterschaft. Rennfahrer aus über 27 Nationen nahmen an der Weltklasse-Veranstaltung teil.
Der Titelverteidiger Kevin Reiterer kam mit großem Selbstvertrauen in die Saison. Der Sieg bei der Europameisterschaft und der VAE Meisterschaftstitel betonten die optimale Vorbereitungsphase des Teams. Das Team war in beiden Trainingseinheiten stark und setzte sich mit zwei Hundertstelsekunden Vorsprung auf Pole Position vor dem Esten Marten Manni. In beiden Motos am Samstag machte Reiterer keinen Fehler von der Pole Position und war am Ende der ersten Runde 8 Sekunden fehlerfrei. Danach verschwand er in der Ferne, um die 10 Runden zu absolvieren und mehr als 1 Minute vor dem Rest der Welt die Rennen zu beenden.
"Ich hatte meine Zeiten in der Pole, als ich mich auf die Strecke einstellen musste, aber ich habe meine Fehler für die Motos ausbessern können. Wir hatten einige Probleme im zweiten Wertungslauf, aber das Team hat großartige Arbeit geleistet, um die Schäden am Rumpf zu reparieren. Durch die langen Tests im Winter wissen wir, was der Motor kann, was es mir ermöglicht, alles zu geben. Es gibt immer Konkurrenz und wir wollen uns jedes Mal verbessern. " erklärt der 26 jährige Österreicher.
Sonntag schockierten starke Sturmböen das Feld mit schwierigen Rennbedingungen. Reiterer zeigte sich von den raueren Bedingungen nicht beeindruckt und baute von Anfang an seine nun übliche Führung auf, um mit einem Vorsprung von 40 Sekunden zu gewinnen. "Ich mag solche Bedingungen, einige Wellen und viel Wind, was es interessanter macht und den Job des Fahrers, sein Können, wichtiger macht."
Kev-Racing's, Daniel Svae Andersen (NOR) beendete sein bisher bestes Wochenende auf der UIM-ABP-Tour mit einem weiteren zweiten Platz, um sein erstes Podium und den zweiten Platz zu sichern. Marten Mannis (EST) wurde Dritter, gefolgt von Raphael Maurin (FRA) auf dem vierten Platz.
In zwei Wochen erreicht die Meisterschaft Olbia, Sardinien. Zum zweiten Mal in der Geschichte ersetzt die Aquabike-Weltmeisterschaft die berühmte WRC Rennserie auf der italienischen Insel.