An impressive turnout of 115 riders from 20 countries descended on Penafiel for the Grand Prix of Portugal to launch the UIM-ABP Aquabike season with Reiterer topping the time sheets in Ski GP1. Reiterer and Victory Team who are coming into this season with a fresh UAE title were focused on final tests with their racing ski before heading to the World Championship.
Austria's Reiterer showed his class with a powerful set of performances winning Moto 1 by 41.98s from Norway's Ulrik Berntsen, with Estonian rider Marten Manni in third then improving in the second Moto of the day to win by 1:16s from another Norwegian Stian Schjetlein, Berntsen in third. The last Moto was a carbon copy of the first two. The Victory Team racer lapped up to 5th place to secure a perfect weekend at the first of three European Championship rounds.
"It feels good to be racing to your full potential and that is what I was able to do all weekend long. I haven't raced to my fullest potential the last couple of years but finally we were able to create a package that really suits me as a rider. I can't describe the joy I had this weekend. Gratitude to my sponsors and my team for making this come true. It is time to enjoy."
Such a dominate performance at a European Championship might not have been seen in history of the sport. With a first win and a boost of confidence the Team heads to Portimao, Portugal for the season opener of the UIM ABP World Championship the upcoming weekend.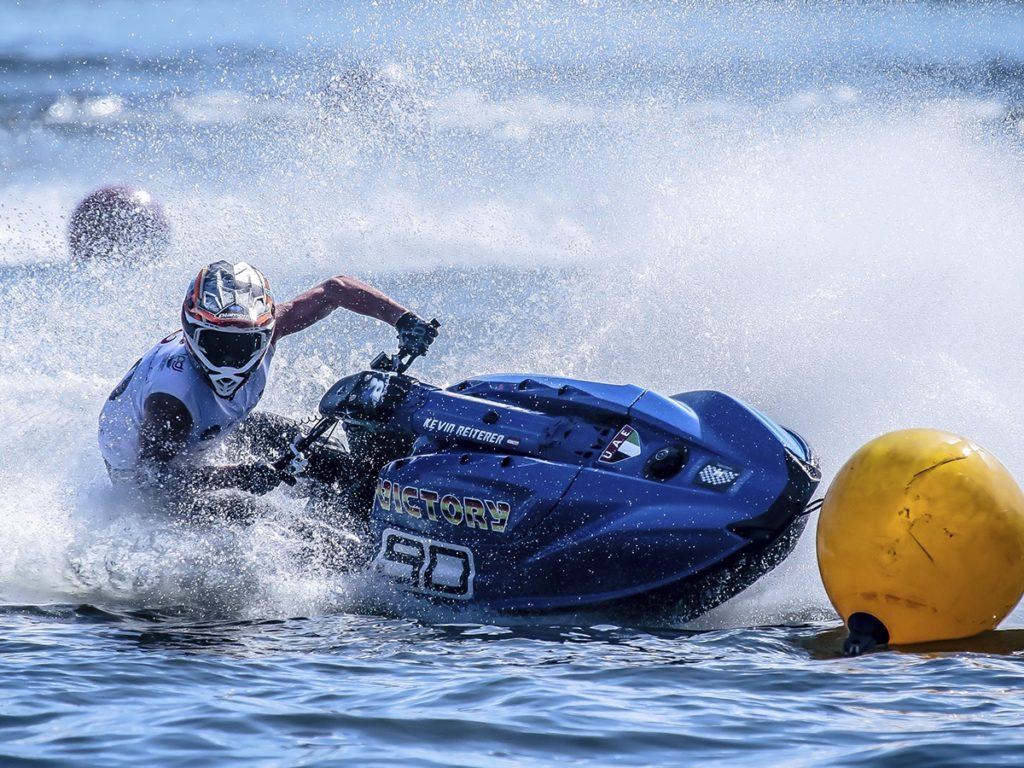 Penafiel, Portugal – Mit einer beeindruckenden Teilnehmerzahl von 115 Fahrern aus 20 Ländern, startete vergangenes Wochenende der Auftakt der Jetski Europameisterschaft in Portugal. Nach einem frischen VAE-Titel in diesem Winter, galt dieses Rennwochenende als Generalprobe vor dem ersten Weltmeisterschaftslauf für Kevin Reiterer und sein Victory Team.
Nach einem Sieg der Qualifikation, bei welcher Reiterer die beste Rundenzeit erfuhr, startete er aus erster Position. Der Österreicher gewann Moto 1 mit 41,98 Sekunden vor Norweger Ulrik Berntsen und Estländer Marten Manni auf Platz drei. Im zweiten Moto des Tages verbesserte Reiterer seinen Vorsprung auf 1: 16min vor Stian Schjetlein und Berntsen auf Platz Drei. Im Finalen Lauf überrundete der Victory Team Fahrer bis auf Platz 5 und sicherte sich den Sieg sowie ein perfektes Rennwochenende.
"Es fühlt sich unglaublich an sein volles Potential im Rennen fahren zu können. Die letzten Jahre war dies leider nicht immer möglich. Doch nun haben wir ein Setup, welches auf mich abgestimmt ist und es mir ermöglicht alles zu geben. Ich kann dieses Gefühl kaum beschreiben. Ich weiß nur eines, ich bin meinen Sponsoren und meinem Team unglaublich dankbar, dass ich dies erleben darf."
Eine solch dominante Leistung bei einer Europameisterschaft hat man in der Geschichte des Sports in dieser Form noch nie gesehen. Mit einem ersten Sieg und einem Zuwachs an Selbstvertrauen fährt das Team am kommenden Wochenende nach Portimao zum Saisonauftakt der UIM ABP World Championship-Runde.