Back to the Top
After a year absence due to the COVID 19 pandemic, the ABP Aquabike World Championship season kicked off its first Grand Prix of 2021 in Olbia, Sardinia. 120 racers from around the world returned to one of the most iconic venues on the tour. The windy weather forecast made the conditions in Olbia's harbor even more difficult for the athletes and their machines.
In Ski GP1 Kevin Reiterer, racing for the Dubai based Victory Team, showed he is feeling confident by clinching the pole position with a 5 second margin to second place, Mickael Poret from France. The third place finisher at the 2020 World Championship rounded out his weekend serving up another master class to seal his Grand Prix victory, carding the perfect scorecard, with three Moto wins apiece and maximum points.
Reiterer was unfazed by the rougher conditions and was in command from the start building his now customary lead lap-by-lap and going on to complete the 9 lap Moto to win by 46.41s.
"I like conditions like this some waves and a lot of wind which makes it more interesting and makes the riders' job, his skill more important".
Nacho Armillas completed his great weekend on the UIM-ABP tour with another second place to seal his first podium and the runners-up slot, with Daniel Svae Andersen, of the Kev-Racing Team, onto the third step of the podium.
Kev-Racing's second team racer, Jonna Borgström from Sweden, also showed her masterclass by winning two out of the three Motos, taking the red bib and the overall in the Championship.
The ABP World Championship will continue in the Middle East with the Grand Prix of Kuwait on the 11th to 13th of November.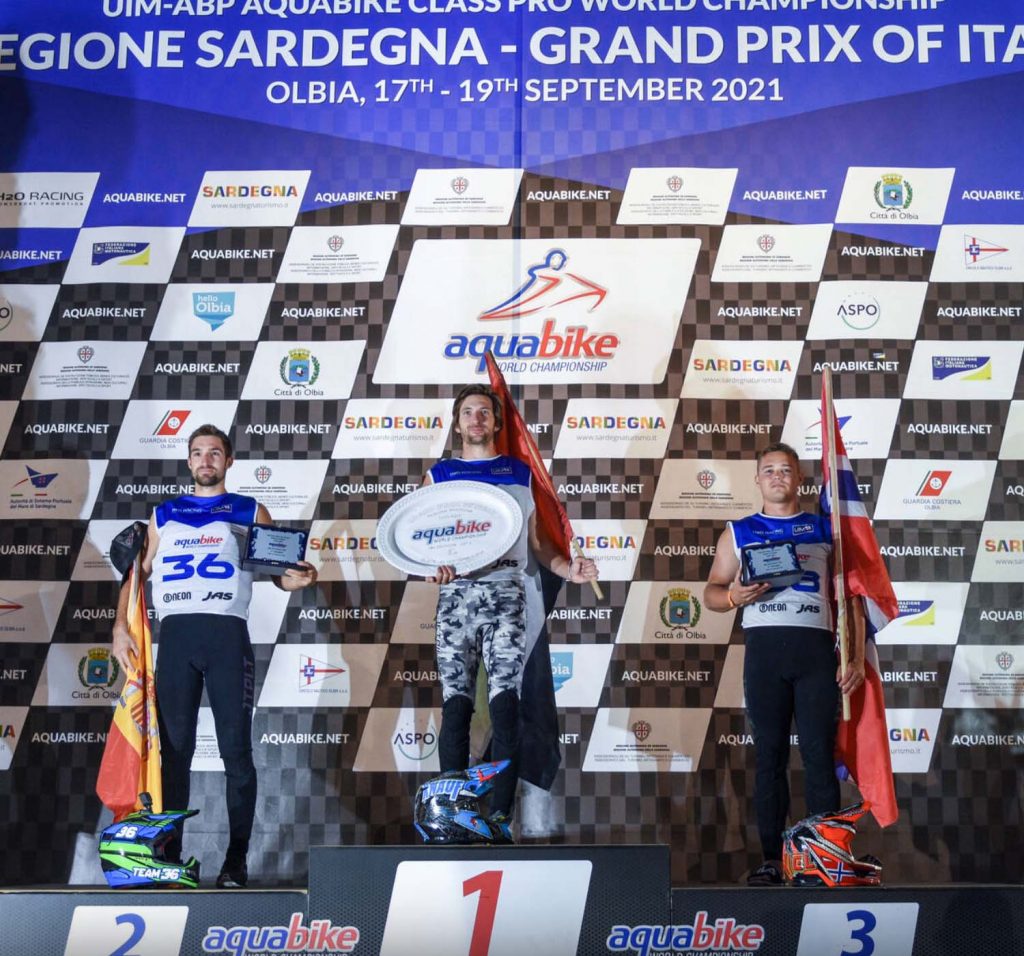 Zurück an die Spitze
Nach einem Jahr Abwesenheit aufgrund der weltweiten COVID-19-Pandemie startete der ABP Aquabike World Cup mit dem Saisonauftakt in Olbia, Sardinien. 120 Rennfahrer aus der ganzen Welt kehrten zu einem der berüchtigtsten Austragungsorte der Tour zurück. Der windige Wetterbericht erschwerte den Sportlern und ihren Maschinen die Bedingungen im Hafen von Olbia.
In der Ski GP1 zeigte Kevin Reiterer, der für das in Dubai ansässige Victory Team startete, dass er zuversichtlich ist, indem er die Pole Position mit 5 Sekunden Vorsprung auf den zweiten Platz Mickael Poret aus Frankreich holte. Der Niederösterreicher rundete sein Wochenende mit einer weiteren Meisterklasse ab. Um seinen Grand-Prix-Sieg zu besiegeln gewann er alle drei Wertungsläufe und die maximalen Punkte.
Reiterer ließ sich von den raueren Bedingungen nicht beeindrucken und hatte von Anfang an das Kommando, baute seine übliche Führung Runde für Runde aus und beendete das Finale mit 46,41 Sekunden Vorsprung.
"Ich mag Bedingungen wie diese, einige Wellen und viel Wind, stellen das Können und die Kondition in den Mittelpunkt. Hier trennt sich die Spreu vom Weizen."
Nacho Armillas beendete sein großartiges Wochenende auf der UIM-ABP-Tour mit einem zweiten Platz, mit Daniel Svae Andersen vom Kev-Racing Team auf dem dritten Platz des Podiums.
Jonna Borgström aus Schweden, die zweite Fahrerin des österreichischen Rennteams, zeigte ihre derzeitige Form, indem sie zwei von drei Wertungsläufe gewann und sich den Grand Prix Titel sicherte.
Die ABP-Weltmeisterschaft wird im Nahen Osten mit dem Grand Prix von Kuwait vom 11. bis 13. November fortgesetzt.