KEVIN REITERER WINS SKI 2021 WORLD CHAMPIONSHIP IN HACTIC SHOWDOWN
*Nacho Armillas to win Grand Prix of Kuwait
In the windy sea of Salmiya Beach Ski GP was a two men show between Spain's Nacho Armillas and Austria's Kevin Reiterer. The spanish rider was the winner of the first 2 Motos with Reiterer second in both of them. Reiterer underwent boat issues in Moto 1 which had him to work through the field to keep the Championship hopes alive. Being passed by Nacho in Moto 2 Reiterer clearly showed a lack of pace in the rough conditions.
But Victory Team's Kevin Reiterer was once again with a faultless performance in the final Moto at his highest to win Moto 3 at the Grand Prix of Kuwait and seal his fourth UIM-ABP Aquabike World Championship.
Second place in the World Championship Podium went to Spain's Nacho Armillas with Anders Keller to end the year in third overall.
"It means a lot to me and especially the team. I am lucky to work with such dedicated and hard-working people. It's one thing to have a dream and go out and try to be the best but to share that dream and success with the people behind the programme is incredible." said Reiterer.
Nacho Armillas is the winner of the Grand Prix of Kuwait with Kevin Reiterer taking second and the final place of the podium going to France's Mikael Poret.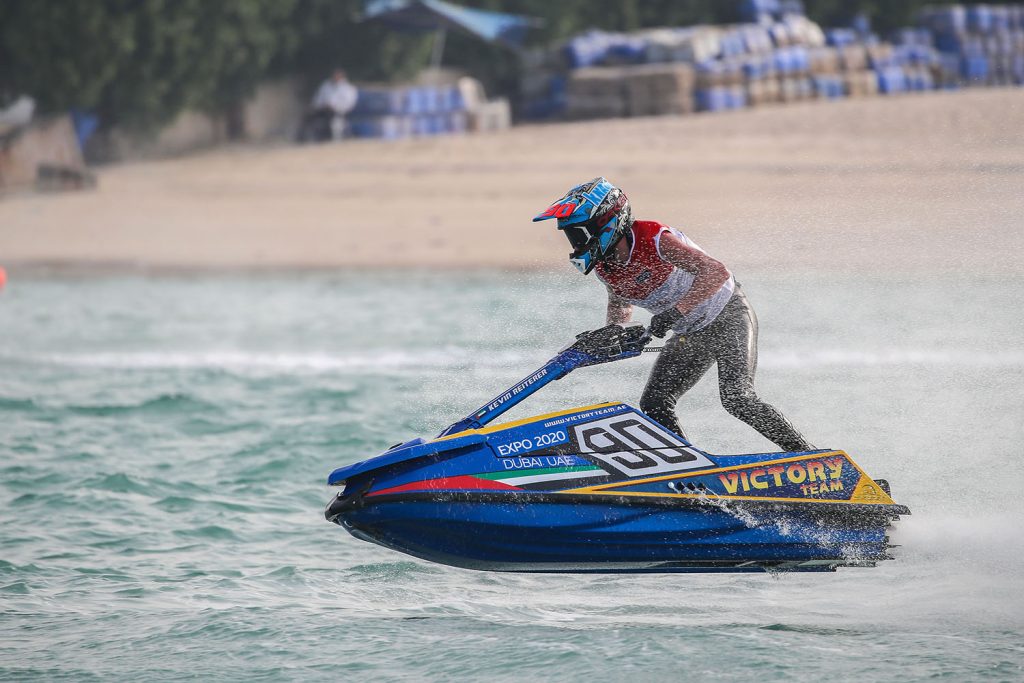 Dieses Wochenende fand im Meer von Salmiya Beach, in Kuwait City ein hart umkämpftes Zwei-Mann-Duell zwischen dem Spanier Nacho Armillas und dem Österreicher Kevin Reiterer statt. Der Spanier war der Sieger der ersten zwei Wertungsläufe, Reiterer wurde jeweils Zweiter. Der Niederösterreicher hatte im ersten Lauf mit leichten technischen Problemen zu kämpfen, die ihn dazu zwangen, sich durch das Feld zu arbeiten, um die Hoffnungen auf die Meisterschaft am Leben zu erhalten.
Der Punktestand, vor dem finalen Lauf in der Gesamtwertung, war nun ident zwischen den beiden Sportlern. Im Finale sicherte sich Reiterer den Start, fuhr ein fehlerfreies Rennen, hielt den Druck von Nacho Armillas stand und holte sich mit dem Sieg seinen vierten UIM ABP Weltmeistertitel.
Der zweite Platz auf dem WM-Podium ging an den Spanier Nacho Armillas und der dritte Gesamtrang an Anders Keller aus Dänemark.
"Es bedeutet mir und vor allem dem Team sehr viel. Ich habe das Glück, mit so engagierten und hart arbeitenden Menschen zusammenzuarbeiten. Es ist eine Sache, einen Traum zu haben und rauszugehen und zu versuchen, der Beste zu sein, aber diesen Traum und diesen Erfolg mit den Menschen die hinter mir stehen zu teilen, ist unglaublich." sagte Reiterer.