A Grand Prix makes history
Olbia was set to be the second round of a spectacular ABP Aquabike World Championship Grand Prix. With 139 racers from more than 28 different countries the Sardinian coast line was set for an intense weekend of racing action combined with numerous side activities and a night show.
The defending World Champion and points leader Kevin Reiterer qualified in second behind Quinten Bossche (BEL). These two had some battles over the year but this weekend would have turned out to be one of its kind. The two came together on the start lap with defending champion and the season points' leader Reiterer coming off worse, parting company with his Ski and dropping to 19th, Bossche leading at the end of lap 1.
"It was a bit unfortunate. I think we were both a little bit making a mistake. I was coming really fast from the outside and he didn't see me. There are no brakes on a jet ski. We talked about it after the race. We see what happens this afternoon." Bossche said.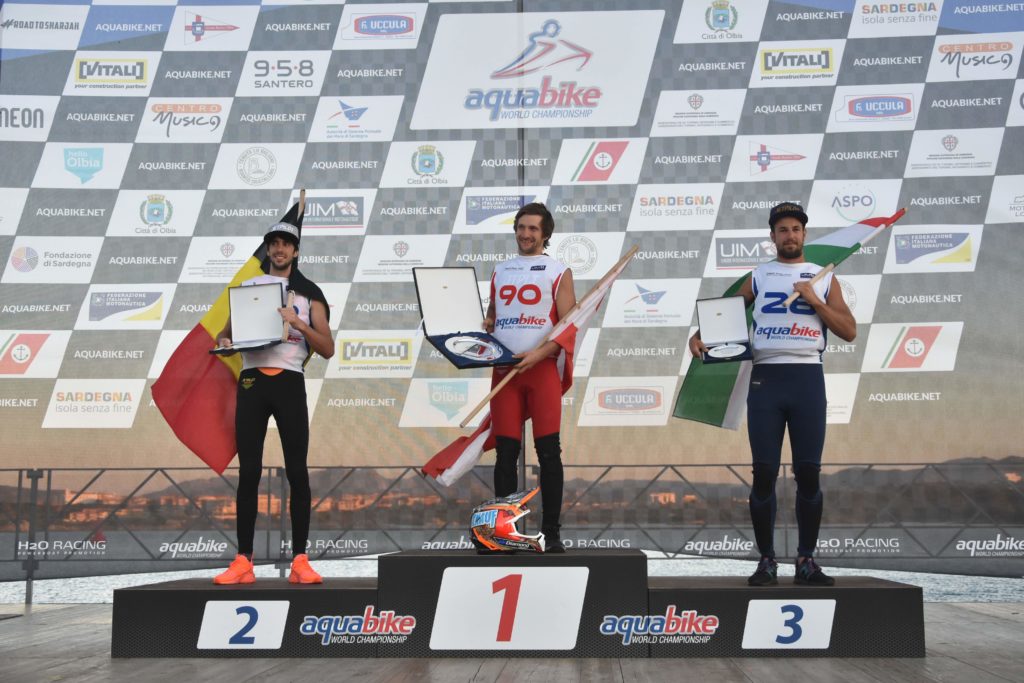 For Reiterer it was all about salvaging what he could and he delivered the perfect response, fighting back and scything his way through the pack from 19th to finish second. Which had to be one of the most exciting races the sport has ever seen. Making up more than 1 minute towards Quinten throughout the race and passing the top 4 riders within the last two laps Reiterer was on a mission.
"It was frustrating as a points leader to be swimming in the first race. It was a racing incident but it was straight up a very aggressive and maybe not thought through action. Nevertheless, I put my head down and gave it my all."
In Moto 2 eagerly anticipated head-to-head between Kevin Reiterer and Quinten Bossche after the pair collided in Moto 1 earlier in the day produced a thriller, with the defending champion taking his revenge and turning the tables on rival and Moto 1 winner Bossche to take his fourth Moto win of the year.
Victory Team's Kevin Reiterer produced a moment of utter brilliance to take victory in the third and deciding Moto, passing his arch rival Quinten Bossche at the last corner to win the UIM-ABP Aquabike Grand Prix of Italy.
"I could not have asked for a better weekend. Life did not make it easy on me but it hopefully showed if you never give up on your goals, always believe and live to your fullest potential anything is possible. Grateful for the victory and experiences. I have some areas to work on and will come back stronger." explains Reiterer.
Next weekend is a weekend off for the racers before continuing battle at the European Championship in Hungary from the 14th to 16th of June.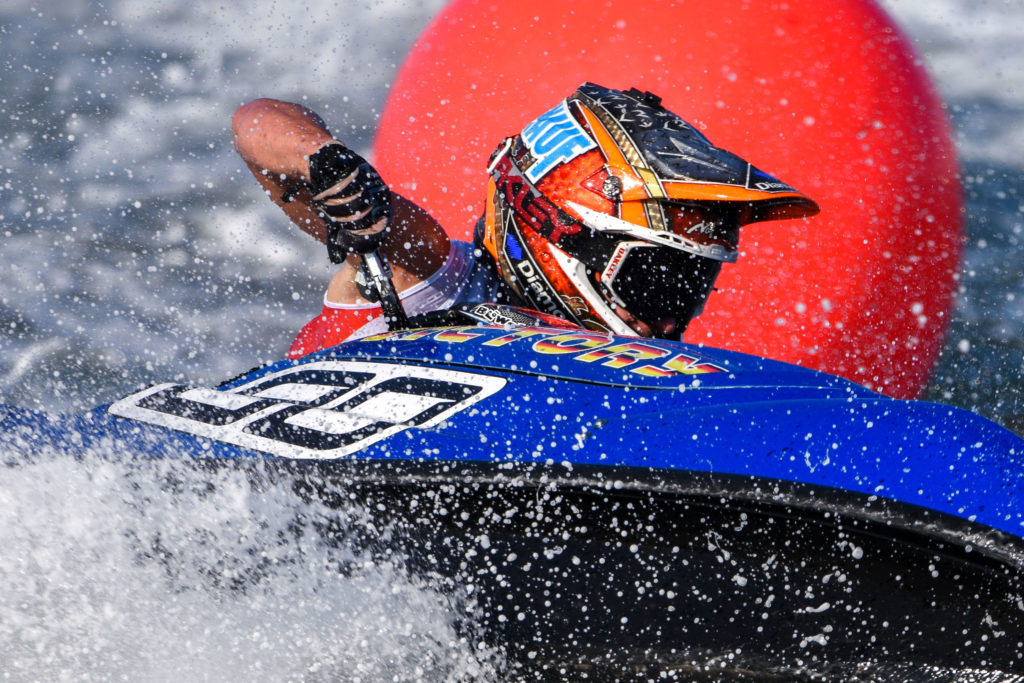 Ein Grand Prix schreibt Geschichte
Olbia war Austragungsort für die zweite Runde eines spektakulären Grand Prix der ABP Aquabike-Weltmeisterschaft. Mit 139 Fahrern von 28 verschiedenen Nationen bat die sardische Küste ein intensives Rennwochenende mit zahlreichen Nebenattraktionen und einer atemberaubenden Nachtshow.
Der Titelverteidiger Kevin Reiterer qualifiziert sich als Zweiter hinter Quinten Bossche (BEL). Die Beiden hatten im Laufe der Jahre einige Zweikämpfe, aber der Rennverlauf dieses Wochenendes sollte sich in den Geschichtsbüchern des Sports verewigen. Bei einer Kollision der beiden Rennfahrer am Start kam Reiterer schlechter davon, verabschiedete sich von seinem Ski und fiel auf den 19. Platz zurück, während Bossche am Ende der ersten Runde führte.
"Es war ein bisschen unglücklich. Ich denke, wir haben beide ein bisschen einen Fehler gemacht. Ich kam von hinten und er hat mich nicht gesehen. Es gibt keine Bremsen an einem Jet-Ski. Wir haben nach dem Rennen darüber gesprochen. Mal sehen, was heute Nachmittag passiert. ", sagte Bossche.
Für Reiterer ging es darum, zu retten, was er konnte und er lieferte die perfekte Antwort. Es war wohlmöglich die atemberaubendste Performance eines Athleten die man bisher in dem Sport gesehen hatte. Reiterer holte nicht nur eine ganze Minute auf den Führenden auf, sondern flog durch das Startfeld und beendete das Rennen auf Platz Zwei. Diese Perfomance unterstrich, dass Reiterer auf dem Weg ist der größte Sportler zu werden den der Sport je gesehen hatte.
"Als Punkteführer war es frustrierend, im ersten Rennen zu schwimmen. Es war ein Rennereignis, aber es war geradewegs eine sehr aggressive und vielleicht nicht durchdachte Aktion. Ich wusste, dass ich alles geben musste um meine Punkteführung aufrecht zu erhalten."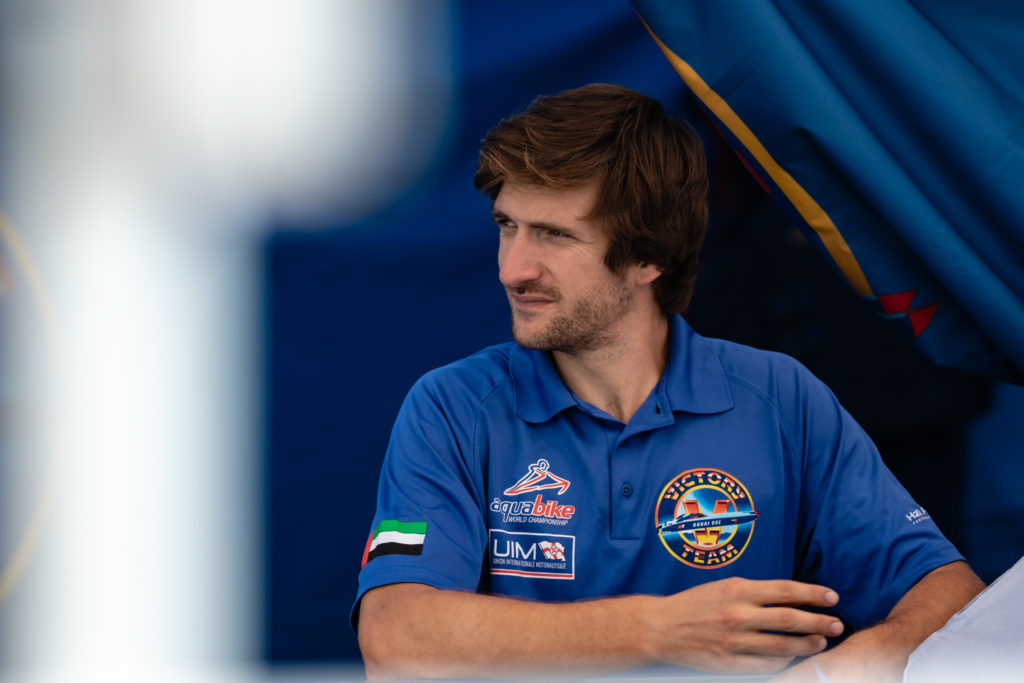 Im zweiten Wertungslauf erwarteten die Zuseher gespannt das direkte Duell zwischen Kevin Reiterer und Quinten Bossche, nachdem die beiden in Moto 1 kollidierten. Der Titelverteidiger nahm seine Revanche. Der Österreicher drehte den Spieß um gegen Rivalen und Moto 1-Sieger Bossche und holte den vierten Sieg des Jahres.
Kevin Reiterer brachte einen Moment voller Brillanz hervor, um im dritten Rennen den Sieg zu erringen. In der letzten Kurve überholte er seinen Erzrivalen Quinten Bossche und gewann den UIM-ABP Aquabike Grand Prix von Italien, welcher als eines der unglaublichsten Rennwochenenden in die Geschichte eingeht.
"Das Leben hat es mir dieses Wochenende definitiv nicht leicht gemacht. Ich bin jedoch dankbar für diese unglaubliche Erfahrung. Die Ereignisse zeigten hoffentlich, dass man nie den Glauben verlieren darf, nie aufgeben sollte und stets sein volles Potential ausleben sollte, denn dann scheint nichts unmöglich."
Das kommende Wochenende ist Erholung für die Rennfahrer angesagt, bevor sie vom 14. bis 16. Juni bei der Europameisterschaft in Ungarn weiterkämpfen.