Another perfect Grand Prix for Austrian
China, Qingdao 11.- 13. October 2019
The third round of the World Championship resumed with the UIM-ABP Haier Grand Prix of Qingdao in China last weekend. The Austrian racer came into the Grand Prix with the chance of regaining his World Title prior to the final race of the season.
"We are not focusing on the title yet. Our goal is to go out there and deliver the best we can and hopefully come home with the Victory." says Team Principal Christopher Wilkinson.
With a win in the revised Pole Position format and wind gusts creating surf condition waves pounding onto shore on Friday morning everything was set to be an exciting start to the weekend.
Reiterer managed the weekend with great professionalism and a will of a world champion. A perfect score for the Victory Team rider now means he needs just one point at the final Grand Prix of the year in Sharjah to retain his title.
"I am very happy for the team. It was another perfect weekend," said Reiterer. "I tried to push as hard as I could. My goal is to try to always give my competitors the best 'Kevin' to try to beat and although I had a comfortable lead I was pushing my limits."
Kev-Racing Team racer Daniel Svae Andersen held the title fight alive and picked up his second podium of the year with Stian Schjetlein producing his best result of the year finishing his first podium of the season in third.
The final chapter of the 2019 World Championship title hunt will continue on the 17th to 20th of December at the Grand Finale in Sharjah, UAE.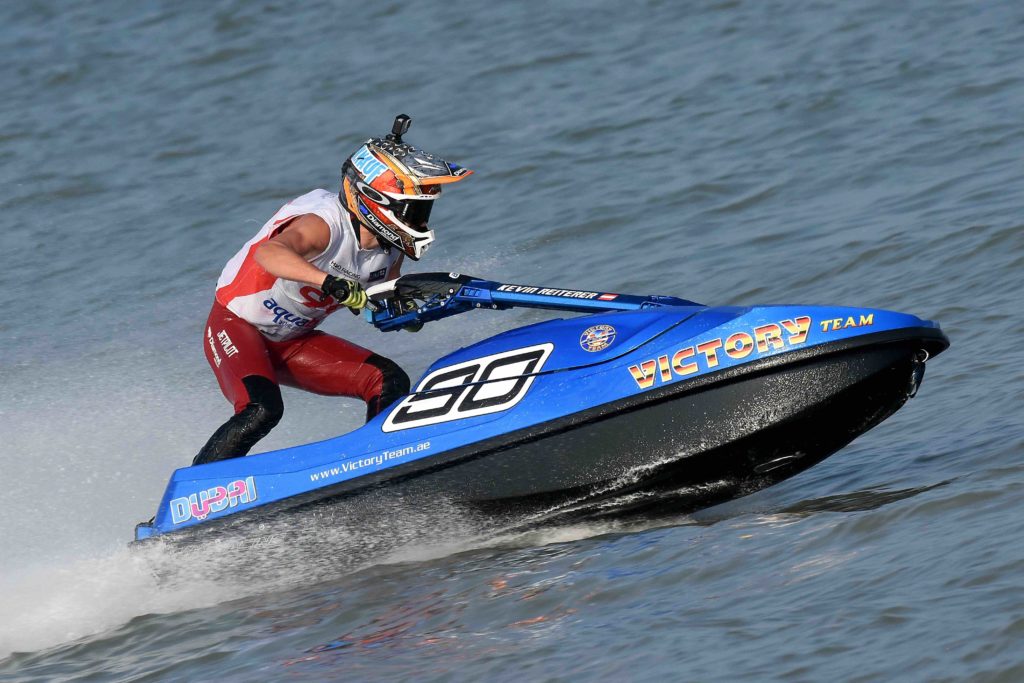 Ein großer Schritt in Richtung Titelverteidigung
Der dritte Stopp des World Cups fand vergangenes Wochenende beim UIM-ABP Haier Grand Prix von Qingdao, China statt. Die Chance bestand für den Niederösterreicher, mit einem fehlerfreien Wochenende und etwas Glück, den Weltmeistertitel vor dem letzten Grand Prix zu verteidigen.
"Wir sind zu diesem Zeitpunkt nicht auf den Titelkampf fokussiert. Unser Ziel ist es das Beste aus unserem Fahrer und dem Jet herauszuholen und den Grand Prix zu gewinnen." definiert Team Manager Christopher Wilkinson als Ziel des Teams.
Der Niederösterreicher gewann mit hoher Professionalität und Perfektion den dritten Grand Prix in Folge. Mit den maximalen Punkten für Reiterer beim Großen Preis von Qingdao ist der Victory Team Werksfahrers nur einen Punkt von einem weiteren WM Titel entfernt.
"Ich bin sehr glücklich für mein Team und meine Sponsoren, gemeinsam solch Erfolge zu erreichen. Mein Ziel ist es den Sport an neue Grenzen zu bringen und mich stetig weiterzuentwickeln. Ein weiteres erfolgreiches Wochenende für das Team und einen großen Schritt dem Titel näher."
Kev-Racing Team Fahrer Daniel Svae Andersen sicherte sich einen souveränen zweiten Platz und nimmt dadurch den Titelkampf in die Vereinigte Arabischen Emirate mit. Stian Schjetlein folgt seinem norwegischen Landsmann auf Platz Drei auf das Podium.
Der letzte Abschnitt der Weltmeisterschaft in 2019 findet von 17 bis 20 Dezember in Sharjah, VAE statt.