After an exciting and competitive first half of the year in both the World and completed European Championships, the world's best riders now focus their attentions and prepare to renew rivalries when the action and title chase ratchets up and resumes at the UIM-ABP Haier Grand Prix of Qingdao in China on 10-13 October.
In Ski division Kevin Reiterer has dominated and as the 2019 world championship campaign enters its second phase the Austrian is on course to lift the title.
Reiterer's perfect scorecard in Portugal and two Moto wins and a second in Italy put the defending champion 53 points clear of a chasing pack headed by Daniel Svae Andersen on 94, with a quartet of riders, Barnabas Szabo, Axel Courtois, Anders Keller and Stian Schjetlein separated by just eight points.
"I am feeling good to kick off the second half of the season. The break has been well received. Being fully recovered and race ready I am excited to be racing again next weekend."
Reiterer currently training and testing in Dubai together with Victory Team before heading to China the upcoming week.
"We are going from race to race and not thinking about the Championship yet. As a Team we want to improve each time and that is our main goal as a Team.", explains Team Principal Chris Wilkinson.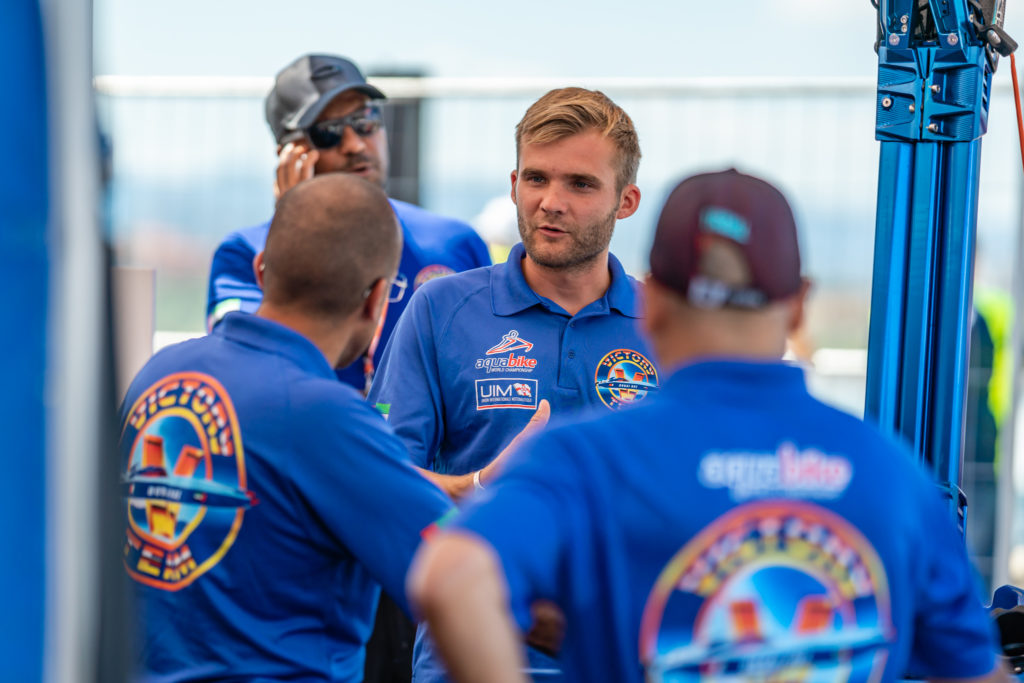 DER KAMPF UM DEN WM TITEL GEHT WEITER
Nach einer aufregenden und wettbewerbsintensiven ersten Jahreshälfte sowohl in der Welt- als auch in der abgeschlossenen Europameisterschaft konzentrieren sich die weltbesten Fahrer jetzt auf neue Rivalitäten, wenn die Action- und Titeljagd beim UIM-ABP Haier Grand Prix wieder aufgenommen wird von Qingdao in China am 10. und 13. Oktober.
In der Skisparte dominierte Kevin Reiterer und als die Weltmeisterschaftskampagne 2019 in die zweite Phase eintritt, ist der Österreicher auf dem besten Weg, den Titel zu holen.
Mit der perfekten Scorecard von Reiterer in Portugal und zwei Moto-Siegen sowie einem zweiten Sieg in Italien setzte sich der Titelverteidiger mit 53 Punkten gegen einen Verfolger von Daniel Svae Andersen auf 94 durch, der von Barnabas Szabo, Axel Courtois, Anders Keller und Stian Schjetlein angeführt wurde durch nur acht Punkte getrennt.
Reiterer, ist derzeit in Dubai. Dort absolviert er mit dem Victory Team letzte Trainingseinheiten und Tests.
"Wir gehen von einem Rennen zum Nächsten und denken noch nicht an die Meisterschaft. Als Team wollen wir uns jedes Mal verbessern und das ist unser Ziel.", erklärt Teamchef Chris Wilkinson.