Chon Buri, Thailand – Dieses Wochenende fand am Golf von Thailand, in Pattaya City, das prestigeträchtigste Rennen der Jetskiwelt statt. Nach Reiterer's letzten Triumph 2015, wurde der Niederösterreicher in den nachfolgenden Jahren einmal Vizemeister, musste sich vier Jahre in Folge technischen Gebrechen geschlagen geben und setzte vergangenes Jahr auf Grund der weltweiten Covid-19 Pandemie aus. Nach seinem Europameister- und Weltmeistertitel 2021 ist Reiterer zuversichtlich in die Vorbereitung für den diesjährigen King's Cup 2021/2022 gestartet.
Reiterer reihte sich neben den Besten Piloten der Welt auf der Startlinie in Thailand ein. In vier Wertungsläufen, auf den wohl schwierigsten Gewässern, starteten die Athleten in eines der spannendsten Rennwochenenden. Mit einem zweiten und einen ersten Platz übernahm der Bad Fischauer die Halbzeitführung, dicht gefolgt von Quinten Bossche (BEL) und Raphael Maurin (FRA). Nach einem souveränen Sieg des Belgiers im dritten Lauf, hieß es für Reiterer alles oder nichts im finalen Showdown.
Die Bedingungen am Wasser ändern sich stetig und besonders am Nachmittag hatten die Fahrer mit hohem Wellengang zu kämpfen. Die Abstimmung der Jetskis in solch wechselnden Bedingungen zwingt immer zu Kompromissen und verlangen zusätzlich höchste Konzentration und Voraussicht von den Athleten ab. Bossche und Reiterer platzierten sich nebeneinander für den Start des Finales. Die Spannung war zu spüren als die besten 16 der Welt auf die erste Boje zurasten. Quinten gewann den Start und Reiterer konnte sich erst nach Runde drei auf Platz zwei vorkämpfen. Nun hieß es alles geben für den zweifachen Champion. Plötzlich passierte es: Der führende Belgier stürzte in ein Wellental und verlor seinen Ski. Im letzten Moment wich Reiterer dem schwimmenden Konkurrenten aus und übernahm die Führung. Voller Spannung fuhr der Österreicher trotz schwierigster Bedingungen zu einem fehlerfreien Sieg und sicherte sich so seinen dritten Titel.
Weitere Gänsehautmomente erlebte der Österreicher bei der Siegerehrung. Nachdem die österreichische Hymne erklang und seine Landesflagge gehisst wurde, wurde Reiterer die Trophäe durch die königliche Garde überreicht.
"Ich kann es noch nicht fassen. Diese Möglichkeit blieb mir lange verwehrt. Doch dieses Jahr konnte ich mein Bestes zeigen und mir den Titel sichern. Dank gebührt meinem Kev-Racing Team, dem Flamingo Team Thailand und meinem Hauptsponsor Knauf. Dank Ihnen bin ich überhaupt hier und kann diesen Traum in Wirklichkeit umsetzen."
Kevin Reiterer holte sich seinen ersten Titel im Jahre 2008, mit zarten sechzehn Jahren. Nun ist er ein dreifacher Champion und überholt damit den erfolgreichsten Fahrer der Geschichte und sein Kindheitsidol Jeff Jacobs (USA, 2 facher Sieger). Der erfolgreichste Motorsportler Österreichs.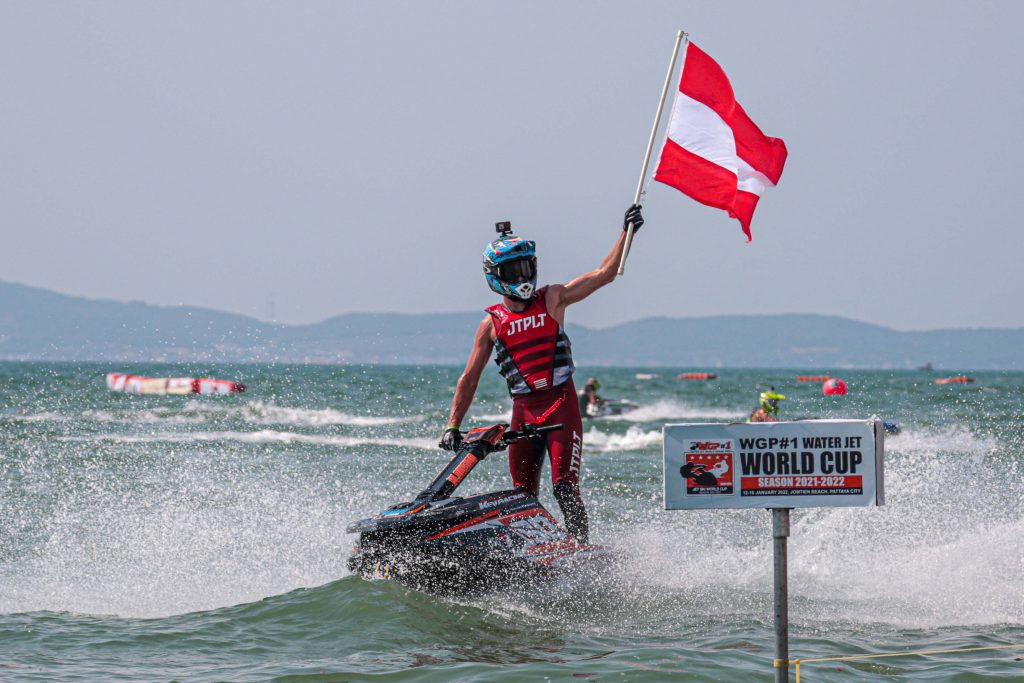 Chon Buri, Thailand – This weekend, the most prestigious race in the jet ski world took place in Pattaya City on the Gulf of Thailand. After Reiterer's last triumph in 2015, the Lower Austrian became runner-up once in the following years, had to surrender due to technical issues four years in a row and did not attend last year to the global Covid 19 pandemic. After his European and World Champion titles in 2021, Reiterer confidently started the preparations for this year's King's Cup.
Reiterer lined up alongside the best pilots in the world on the starting line in Thailand. The athletes started one of the most exciting race weekends in four motos, on the most difficult stretches of water. With a second and a first place, the Bad Fischau occupied the half-time lead, closely followed by Quinten Bossche (BEL) and Raphael Maurin (FRA). After a sovereign victory for the Belgian in the third race, it was all or nothing for Reiterer in the final showdown.
The conditions on the water are constantly changing and especially in the afternoon the riders had to contend with high waves. Adjusting the jet skis in such changing conditions always forces compromises and also demands greater concentration and foresight from the athletes. Bossche and Reiterer placed side by side for the start of the final moto. The excitement was palpable as the top 16 in the world raced towards the first buoy. Quinten won the start and Kevin was only able to fight his way up to second place after lap three. Now it was time to give everything for the two-time champion. The leading Belgian fell into a wave front and lost his ski. At the last moment, Reiterer dodged the swimming competitor and took the lead. The Austrian drove to a flawless victory despite the difficult conditions and thus secured his third title.
Kevin experienced more goose bumps at the award ceremony. After the Austrian anthem sounded and his country's flag was hoisted, Reiterer was presented with the trophy by the royal guards of Thailand.
"I still can't believe it. I was denied this opportunity for a long time. But this year I was able to show my best in all four motos and secure the title. Thanks to my Kev Racing Team, the Flamingo Team and my main sponsor Knauf that all brought me here. Thanks to all of them I can make dreams become a reality."
Kevin Reiterer won his first title in 2008 at the age of sixteen. Now he is a three-time Champion, passing the most successful racer in history and his childhood idol, Jeff Jacobs (USA, 2-time winner). The most successful motorsport driver of Austria and and now maybe considered by some a legend of his sport.