Der schnellste Mann am Wasser
Der Niederösterreicher Kevin Reiterer fuhr vergangenes Wochenende der weltweiten Konkurrenz im rauen Wasser von Vichy auf und davon.
Vergangenes Wochenende startete die zweite Runde der Jetski World Series in der Sport- und Thermenstadt Vichy, Frankreich. Nach Nicht-Teilnahme im Auftaktrennen der Rennserie, aufgrund Trainertätigkeiten für die SEA Games (South East Asian Games) als Nationaltrainer für Kambodscha, startete der 30-jährige Niederösterreicher Kevin Reiterer mit Rückstand in die World Series.
Ungewohnt, musste sich Reiterer für den Hauptwettkampf am Freitag qualifizieren. Die Qualifikation verlief ohne Probleme, denn Reiterer liebt die schwierigen Bedingungen, welche im Stadt-Zentrum von Vichy herrschen. Senkrechte Betonmauern an beiden Seiten des 200 Meter breiten Flusses, in Kombination mit 20, 200 PS starken Rennmaschinen, schaukeln das Wasser in allen Richtungen auf. Diese unberechenbaren Verhältnisse sind als eine der schwierigsten Bedingungen bekannt.
Reiterer in TOP Form.
Neben seinem Aufenthalt in Asien und einem österreichischen Clubrennen am Wochenende zuvor, hatte Reiterer sich im eigenen Studio (EVOLVE), in Wiener Neustadt, auf das Rennen vorbereitet. Neben Yoga-, Physio- und Trainingseinheiten hat sich der mehrfache Weltmeister ein Team von Experten zusammengestellt, um ihn, andere Sportler und gesundheitsbewusste Menschen mit einem qualitativen Bewegungsangebot zu versorgen.
Nach einer atemberaubenden Aufholjagd im ersten Lauf fuhr der Bad Fischauer vom elften auf den zweiten Platz und überholte seine stärksten Konkurrenten. Mit einem weiteren Zweiten und zwei ersten Plätzen sicherte sich Kevin den Sieg vor Quinten Bossche (BEL) und Jeremy Poret (FRA).
"Ich liebe es an meine Grenzen zu gehen und alles zu geben. Hier macht der Fahrer den Unterschied – Da ist es fast egal, was für einen Ski man fährt und wie viel PS man unter der Haube hat!"
so der glückliche Sieger.
Reiterer unterstreicht ein weiteres Mal mit seiner Leistung seinen Ruf als "der schnellste Mann am Wasser". Neben seinen TOP Leistungen holten sich seine Schützlinge die thailändischen Zwillinge Six und Sense den Sieg in der Expert Ski GP Klasse und SEA Games Gold Medaillengewinner Ou-Moeut Saly den dritten Platz in der Sitzer Klasse.
Für Reiterer und sein Team geht es mit weiteren Tests und Vorbereitungen weiter. Anfang Oktober findet der dritte Stopp zur World Series in Lake Havasu City, Arizona USA statt.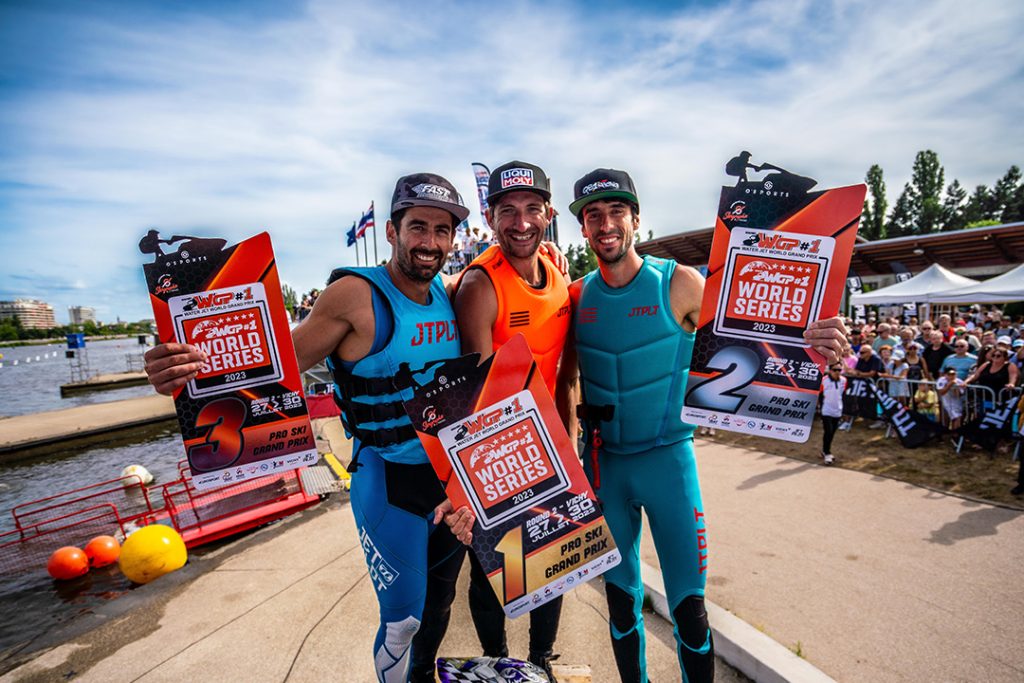 The fastest man on water.
The Lower Austrian, Kevin Reiterer left behind his competition in the rough waters of Vichy last weekend.
Last weekend, the second round of the Jetski World Series took place in the sports and thermal city of Vichy, France. After not participating in the opening race of the racing series due to coaching activities at the SEA Games (South East Asian Games) as the national coach for Cambodia, the 30-year-old Lower Austrian Kevin Reiterer started the World Series with a disadvantage.
Unusually, Reiterer had to qualify for the main competition. The qualification went smoothly, as Reiterer loves the challenging conditions prevailing in the city center of Vichy. Vertical concrete walls on both sides of the 200-meter-wide river, combined with 20, 200 horsepower racing machines, churn the water in all directions. These unpredictable conditions are known to be some of the most difficult.
In addition to his stay in Asia and an Austrian club race, Reiterer had prepared for the race in his own fitness studio (EVOLVE) in Wiener Neustadt. In addition to yoga, physiotherapy, and training sessions, the multiple world champion has assembled a team of experts to provide him, other athletes, and health-conscious people with a high-quality range of exercises.
After a breathtaking comeback in the first run, the Bad Fischau resident moved from eleventh to second place, surpassing his strongest competitors. With another second and two first places, Kevin secured the victory ahead of Quinten Bossche (BEL) and Jeremy Poret (FRA).
"I love pushing myself to the limits and giving it my all. The rider makes the difference here – it's almost irrelevant what kind of ski you're riding and how much horsepower you have under the hood!" said the happy winner.
Once again, Reiterer underlines his reputation as "the fastest man on water" with his performance. In addition to his top achievements, his proteges, the Thai twins Six and Sense, won the Expert Ski GP class, and SEA Games gold medalist Ou-Moeut Saly secured third place in the sit-down 1100 Open class.
The third stop of the World Series will take place in Lake Havasu City, Arizona, USA, at the beginning of October.