Reiterer returns to USA
After a 4 year break of international racing in the USA, the 30 year old Austrian returned to the continent with a spectacular performance. However, the weekend has been shadowed by a horrifying crash in Moto 1.
The multi time World Champion, Kevin Reiterer returned to Lake Havasu City, the most iconic place of the PWC racing, after his last visit in 2018. A remarkable performance from outside the top 10 to second in the first Moto showed and a victory in the second Moto outlined, that he was the man to beat. Going into the final Moto on Sunday, Reiterer was equal on points with Estonian Marten Manni.
As the sun set and the vision became less and less. Riders concern of safety became a big talking point minutes before the start of the final Moto. Reiterer and a few of his competitors expressed their concern of safety, due to an immense accident the day prior and the bad vision. The vote of the riders decided that the race will not take place and meant that Kevin finished in second place behind Estonian Marten Manni and in front of Frenchman Raphael Maurin.
"It did not make sense to go racing for half of our normal racing distance. Risking our lives in terrible vision and especially considering what happened with Tyron yesterday. I am sad I was not able to fight for the victory this time but our battle will continue another day. My thoughts are with Tyron and his family." says Reiterer
Tyron Motzouris has been severely injured in an accident at the start of the first Moto. He has been immediately transported to Las Vegas by Helicopter and underwent an emergency surgery on Saturday. The South African is in critical condition and the whole PWC community has him and his family in their prayers.
The final race will be held on the 15-18 of December in Thailand. With the Top 3 being separated by just 2 points the World Title is still wide open.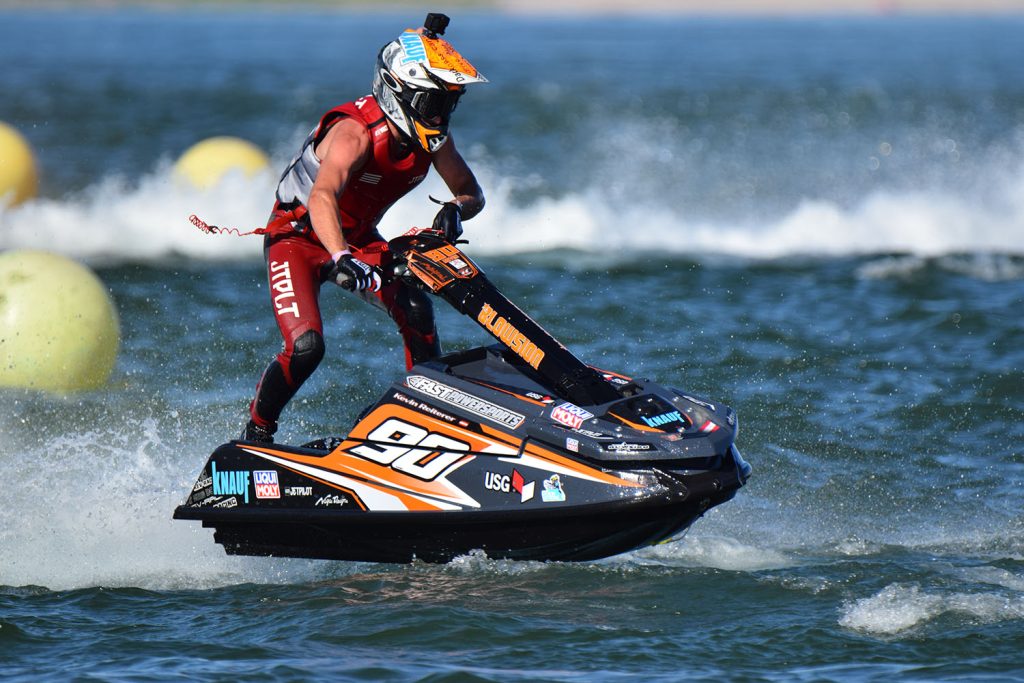 Reiterer setzt wieder Fuß in die USA
Lake Havasu City, Arizona, USA – Nach 4 Jahren Pause kehrt der Jetski-Weltmeister Kevin Reiterer in die Geburtsstadt des Jetskis zurück, um an den legendären World Finals teilzunehmen. Überschattet von einem schweren Unfall eines Rennkollegens endet das Wochenende mit einem 2. Platz für Reiterer.
Nach einem schweren Unfall und Rennabbruch im ersten Wertungslauf, verschob sich der gesamte Rennablauf des Wochenendes. Im nachgeholten ersten Wertungslauf kämpfte sich Kevin von Platz 10 auf Platz 2. Im zweiten Lauf überholte er bei spektakulären Manövern seine zwei stärksten Konkurrenten und gewann. Im dritten Wertungslauf verpasste er nur knapp den zweiten Platz und war in der Gesamtwertung somit punktegleich mit dem führenden Estländer, Marten Manni.
Kurz vor Beginn des finalen Wertungslaufs stand die Sonne bereits sehr tief, was aufgrund der schlechten Sicht und Spiegelung des Wassers ein deutliches Sicherheitsrisiko darstellte. Vor dem Hintergrund des schweren Unfalls am Vortag äußerte Reiterer seine Bedenken gegenüber der Rennleitung und weitere Konkurrenten schlossen sich seiner Meinung an. Das Votum der Fahrer entschied, dass das Rennen nicht stattfinden wird. Aufgrund des Punktesystems endete Reiterer das Wochenende somit auf Platz hinter Marten Männi (EST) und vor Raphael Maurin (FRA).
"Es machte keinen Sinn, die Hälfte unserer normalen Renndistanz zu fahren. Wir riskierten unser Leben in schlechten Bedingungen und besonders angesichts dessen, was gestern mit Tyron passiert ist, möchte ich nichts riskieren. Ich bin traurig, dass ich dieses Mal nicht um den Sieg kämpfen konnte, aber es gibt im Moment Wichtigeres! Meine Gedanken sind bei Tyron und seiner Familie." sagt Reiterer.
Tyron Motzouris wurde bei einem Unfall am Start des ersten Wertungslaufs schwer verletzt. Nach einer Notoperation befindet sich der Südafrikaner weiterhin in einem kritischen Zustand.
Das letzte Rennen der Rennserie findet vom 15. bis 18. Dezember in Thailand statt. Zwischen Raphael, Kevin und Marten liegen lediglich zwei Punkte. Das prestigprächtige Rennen in Asien wird das all entscheidende für den diesjährigen Weltmeistertitel sein.