Monte Carlo, Monaco – For the 10th consecutive year, the world's best powerboat and Aquabike racers joined forces for the sport's biggest Night of the year when the Union Internationale Motonautique's World Champions & Awards Giving Gala was held at the Sporting Monte-Carlo, Monaco on Saturday 23rd March 2019.
Organised and staged by the UIM, the star-studded ceremony is an annual occasion that recognises the feats and achievements of the fastest men and women on water as well as the young stars of the future.
The day culminated with a glamorous Gala dinner and the presentation of the trophies to the 2018 UIM World Champions.
The event was attended by representatives of the Monaco Government, of the IOC, International Sport Federations and by distinguished guests from the World of Sport, Business and Entertainment.
Kevin Reiterer was awarded by UIM for his achievements of the 2018 racing season. Under the presence of His Serene Highness Prince Albert II of Monaco, the Victory Team racer was presented with his World Champion trophy. Awarded by UIM NA President of the UAE and chairman of Victory Team. Mr Huraiz Bin Huraiz was very pleased with the achievements of the Austrian and the UAE Powerboating Team.
One of the biggest names in the Marine Sports industry became a 25th World title winning Marinesports Racing Team. Victory Team success was outstanding in their first year of competing in the Aquabike division. Team Principal Christopher Wilkinson, is looking forward to start their 2019 campaign as successful as they left the racing in the previous year.
"It was a great pleasure and experience to receive the recognition we deserve for all the hard work and dedication going into the racing. It is wonderful to see how Aquabike racing has evolved throughout my career. I am looking forward to start the 2019 race season in May."
In April, Kevin Reiterer will be attending final tests in the UAE. The 2019 international race season kicks off with the first round of the European Championship at the beginning of May..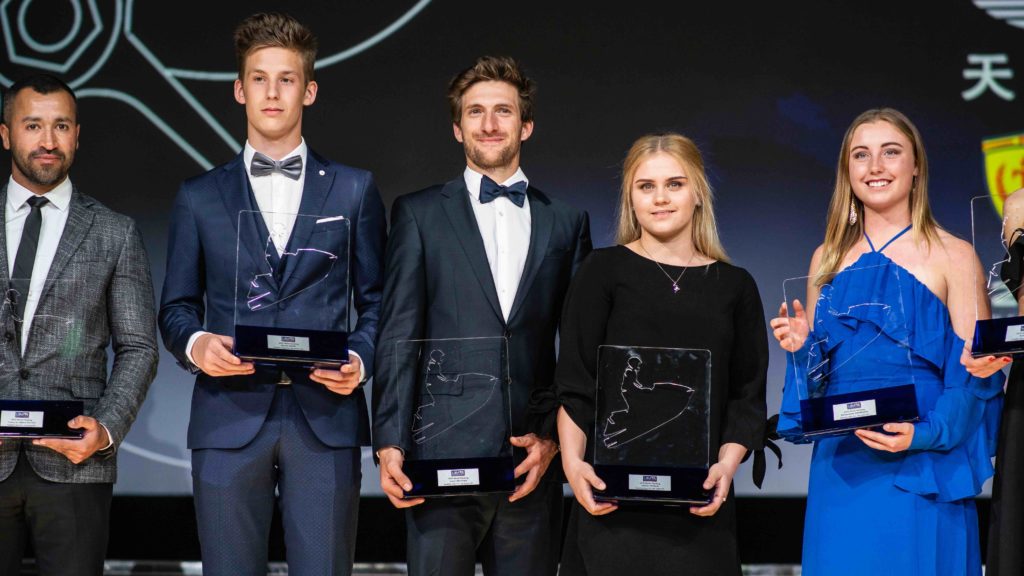 Monte Carlo, Monaco – Zum zehnten Mal in Folge kamen die welt besten Wassermotorsportler im Sporting Monte-Carlo zusammen, um die Awards Giving Gala der Union Internationale Motonautique (UIM) zu feiern. Niemand geringerer als der Prinz von Monaco wohnte der Zeremonie bei und ehrte die Erfolge der Sportler des vergangenen Jahres.
Die von der UIM organisierte und inszenierte Gala ist eine jährliche Veranstaltung, bei welcher Leistungen der schnellsten Frauen und Männer auf dem Wasser, junger Stars der Zukunft und innovativer Projekte des Sports gewürdigt werden.
Die Veranstaltung wurde von Vertretern der Regierung von Monaco, des IOC und der Internationalen Sportverbände besucht, sowie von namhaften Gästen aus der Welt des Sports, der Wirtschaft und der Unterhaltung.
Der Tag endete mit einem glamourösen Galadinner und der Übergabe der Trophäen an die Sportler und Ehrengäste.
Kevin Reiterer wurde von UIM für seine Leistungen der vergangenen Rennsaison ausgezeichnet. Unter der Anwesenheit von Prinz Albert von Monaco (Albert II.), wurde der Victory Team-Fahrer für seinen Weltmeistertitel und die Weltranglistenführung im Jahr 2018 geehrt. Als UIM-Präsident der Vereinigten Arabischen Emirate und Vorsitzender des Victory-Teams, war Huraiz Bin Huraiz besonders stolz die Trophäen an Reiterer zu überreichen.
Mit dem damit 25. Weltmeistertitel des Teams, zeigte der Österreicher erneut, dass das arabische Rennsportteam eines der größten Namen in der Marinesportbranche besitzt. Reiterers Erfolgswelle 2018 war auch im Frühjahr 2019 anhaltend und diesen Schwung möchte Teamchef Christopher Wilkinson auch in die diesjährige UIM-Saison mitnehmen.
"Es war eine große Freude und Erfahrung, die Anerkennung zu erhalten, die wir für all die harte Arbeit und das Engagement für unseren Sport verdienen. Es ist wunderbar zu sehen, wie sich Aquabike Racing in meiner gesamten Karriere entwickelt hat und es ist noch schönes dies mit Famile und Freunden teilen zu dürfen. Ich freue mich darauf, die Rennen der UIM Weltmeisterschaft 2019 zu beginnen."
Kevin Reiterer wird im April letzte Tests in Dubai abschließen, bevor im Mai die internationale Rennserie in Portugal startet.